In the 17th century the Black Forest was a hard place. Europe was going through a mini-ice age,
and it was so cold during the winters that milk sometimes froze in the pail between the barn and the house.
People began to make clocks in their homes during the long, harsh winters. These clocks soon became an important source of income
The first Black Forest Cuckoo Clock was designed and made in 1738 by Franz Anton Ketterer in the small village of Schönwald near Triberg, Germany, in the depths of the Black Forest. Ketterer managed to reproduce the cuckoo's call by the clever use of bellows producing two different sounds.
Clocks that were made in winter were sold by the clock peddlars in the summer months during long journeys throughout Europe.
The clocks were secured on a frame and carried on the back. They were works of art, sought after luxuries that conquered the hearts of people all over the world.
This ancient craft continued to develop, becoming soon a flourishing industry. The poorly lit "cabinets" on attic floors where watchmakers worked in the past have become light and well-equipped workshops where clock movements and cases are manufactured by up-to-date methods.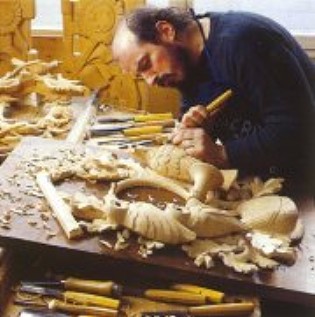 Over the following years, the clock industry developed rapidly in the Black Forest. With their inventive genius, cleverness and dexterity, the inhabitants of the region employed the long winter months in making cuckoo clocks with richly handcarved decorations from various woods.
It is known for example that in 1808 in Triberg, and the surrounding villages, 790 of 9013 inhabitants were involved in the clock-making.
In 1850 a school for clock-making was founded in Furtwangen, where students learned math and drawing as well as making cases and movements for the clocks.
During the long winter months, the farms were snowed-in and the people had a lot of time to create finely
handcrafted cuckoo clocks of many styles with rich and varied carvings.
Clockmaking become widespread in the Black Forest, and folks began to specialize. Some cut gears, others carved the decorations or made the cases, and still others did the painting.
Many cuckoo clocks in the 18th and 19th centuries were painted with elaborate scenes on the front of the case. According to one source, in 1808 in the town of Triberg, 790 of the towns 9,013 residents were involved in clockmaking.